The design, building and flying of model air-planes is termed as Aero-Modeling. It has emerged as one of the finest hobby/ sport around the world.
Model aircrafts are flying or non-flying small-sized replicas of existing or imaginary aircraft created using a variety of materials including paper, plastic, metal, wood etc. These are broadly classified into two types:
* Static: which can't fly, often used for display purposes.
* Dynamic: These can fly and act as a great source of fun along with learning concepts of aero modeling
We have a wide portfolio of Aeromodelling kits, enough to suffice the thirst of a Beginner to even Advanced Aero-modeler. Our kits are inclusive of imported materials and contains each and every part required to successfully build, assemble and fly the model. We also offer Radio Controlled models.
Everybody wish to fly but not possible for everyone, but now possible with aero modelling, is amazing hobby. This is not experience to fly but give feeling to fly also technical knowledge.
All our products are tested and guaranteed. For any queries, products design, other product related information's, and problems in selecting our products you can contact us immediately.
We are always grateful and thankful to Mr. Suresh Kumar Kolkota ( Father of Aeromodelling ) introduced Aeromodelling in India.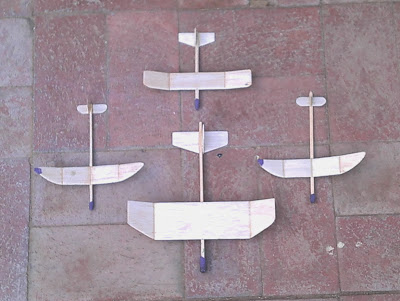 Chuck Glider Readymade and Kit form.
Chuck Gliders are made of Balsa wood which flies beautifully when gently launched into the air, usually in the wind by a gentle throw of hand. The critical aspect of these aero models is the design of the wing, as that decides the time of flight of the model. This model helps children in understanding the concept of Aerodynamics (Aero-foil shape of wing) in a practical and interesting way.
We provide basic chuck glider kit with a wing span of 40 cm, ideally suitable for 10+ years. Each kit includes everything required to build a working model from scratch like:-Balsa wood, Cutter, Sand Paper, Super glue, Plasticine( Modeling Clay), Stainless Steel Scale, Pen and Step by step instruction Manual.